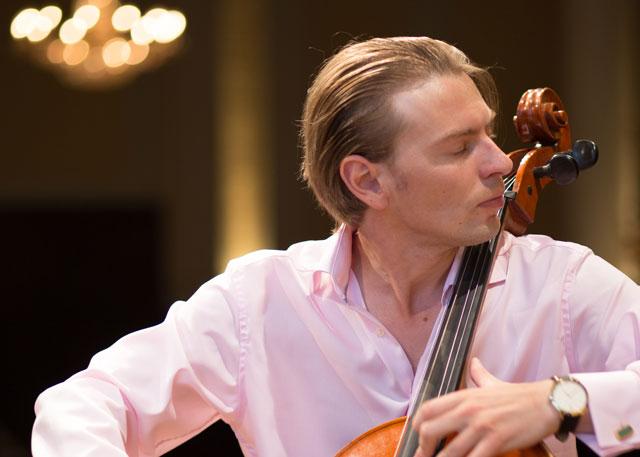 Under the constant tutelage of M. Rostropovich Fyodor Elesin began his musical path at the Saint-Petersburg College of Music and at the age of 13 years he has already performed with the National Symphony Orchestra of St. Petersburg as a soloist, including the performances on the first Russian TV channel "ORT".
​
After graduating from the State Conservatory of Rimsky-Korsakov (The NA Rimsky-Korsakov Saint Petersburg State Conservatory), where he was taught by Vladimir Atapina, Elena Dernovoi, Alexander Ponomarenko and Alexey Vasiliev cellist continues his studies in Hamburg higher school of music and Theatre (class of Wolfgang Mehlhorn) and finishes it with his concert exam in 2009. Then, owing to the assistance of the Vivian T. Greve Scholarship Fund he continued his studies at the International Institute of Chamber Music in Madrid under the leadership of such professors as Ralph Gothoni, Bruno Canino and Menahem Pressler.
​
Fyodor Elesin received 24 awards for participation in various music competitions such as the International Music Competition "Classica Nova", at the international festival "Virtuosos 2000" and the "Palaces of St. Petersburg" , the German national competition "Jugend musiziert", at the International competition Fund Elise-Meyer Foundation, at the International competition in d'Ande Moulin in France, at the International competition Ibla Foundation in Italy, as well as he took "Prokofiev's Award".

Fyodor Elesin became known as "the king of the cello" after the last CD's recording played on the personal cello of the last Russian Tsar Nicholas II. It's not a surprise because the cellist performed at various festivals in the most prestigious concert halls, including Carnegie Hall in New York, the Berlin Philharmonic, St. Martin-in-the-Fields in London, with some of the best musicians of our time Viktor Tretyakov and David Geringas. Since that time he successfully started to organize his festivals and concerts himself where he, among other things, brings together under one roof, concerts, master classes with renowned professors and music competitions such as "MUSIC ISLANDS EUROPA", "MUSITEKTUR#", "MUSIKHANSA" and "ARABESQUES EN RUSSIE.
​
As a multiple winner of the German Musical Instrument Fund Fyodor Elesin plays the cello owned to the fund Charles Francois Gand (Paris 1842) , the M.Rostropovich's cello and also the cello of the last Russian Tsar Nicolas II.