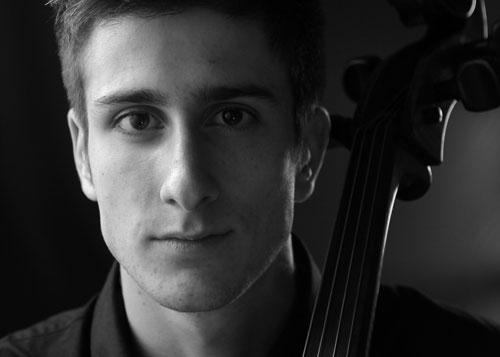 Born in 1996, has been taking cello lessons since the age of six. He grows under the teaching of M° Andrea Pecelli till 2013, when he begins his studies at Conservatorio "G. Verdi" of Milan, where he got his three years bachelor degree.
He currently studies with M° Enrico Dindo at "Pavia Cello Academy".
He regularly attends masterclass with great cellists such David Geringas, Wolfgang Boettcher, and Denis Shapovalov.
From 2009 to 2013 he is first cello in Orchestra da Camera di Domodossola, Orchestra Sinfonica Giovanile del VCO and Orchestra Sinfonica del Lago Maggiore.
Since 2013 he his first cello in baroque ensemble "Accademia del Carmine" in Parma under the baton of M° Petr Zejfart.
In July 2014 he works with Romanian quintet "La Terza Finestra", touring in Romania, Hungary, Germany, Austria and Switzerland.
Since 2014 he occasionally plays in Orchestra "Antonio Vivaldi", Orchestra UNIMI of Milan, Orchestra Filarmonica Italiana, having concert in important international festivals, in Arena of Verona and in "Gabala Music Festival" in Azerbaijan.
In 2015 with Orchestra Filarmonica Veneta he tours all over China, playing in great theaters in Zi Gong, Xi'An, Nanjing, Taijuan, Guangzhou and Xia Men. After this tournée he has been invited to perform as soloist in Shangai in 2016.
Since 2014 he plays in duo with pianist Gaston Polle Ansaldi, with whom he wins XXXIV International Competition of Stresa.
Since November 2015 the duo is studying chamber music under Professor Bruno Canino in Fiesole school of music.
In 2016 the duo debuts at Wiener Saal of Mozarteum in Salzburg.